Archive for the 'Money Fraud Charges' Category
This blog post was originally published on August 10, 2013.
Caroline Manzo predicted in a testimonial (TH) during season 4 episode 13 – which was taped in 2011 – that Teresa Giudice would leave her husband if he goes to prison and then she would write a tell-all book for the sole purpose of making money.
"Prediction: Something may happen where someone has to go somewhere. Teresa's going to have to pull herself up on her bootstraps and take over. She'll say, 'You know what, I tried. I stood by him, but I have to divorce him now. And I'm gonna show my daughters what it's like to be strong and independent on your own and survive.' There's a book in there – you heard it here first!"
Caroline also said that Teresa pushed Juicy to his limit "trying to keep up with the Gorgas;" and, as a result, he will pay the "ultimate price" for Teresa "wanting it all":
"Teresa wants it all, and I think that the demands she put on him led him to make decisions that weren't the best. And I think he resents her for it, and he's going to pay the ultimate price for it."
By "ultimate price," Caroline means Juicy will be going to prison.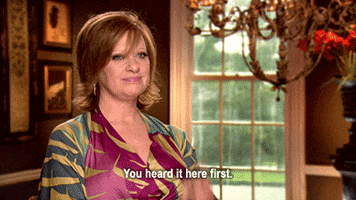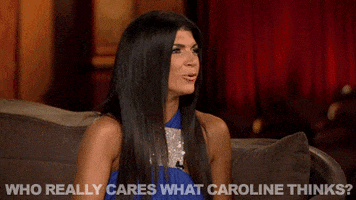 Caroline implied in her June 4, 2012, Bravo Blog that if it wasn't for Teresa's demands, Juicy would be a "fun, carefree man, happy to be living in a cardboard box":
"I also meant what I said about him being a shell of the man I met a few years ago. The Joe I remember was fun, carefree. I truly believe that back then he didn't need more than a good cigar, a bottle of homemade wine, and his family and friends around him to be happy. The guy could live in a cardboard box and be happy. Something changed along the way, and he's become bitter, guarded. Sad, we all miss the old Joe. I'm not saying this for brownie points, or to be politically correct. I mean this sincerely."
Us Weekly ran a story on May 29, 2012, which was very similar to what Caroline said in her season 4 episode 13 testimonial. Here's the quote from a 'show source':
"If Joe goes to jail, there will be sympathy for her. And she'll get a spinoff about life as a single mom. She'll do a book deal, too: 'My Life Without Joe' or something like that."
Caroline went on WWHL the night season 4 episode 13 premiered on July 22, 2012, and defended her comments. Below is the Bravo video link for Caroline's prediction that Juicy will go to prison (season 4 episode 13) plus the video of Caroline's appearance on WWHL where she expands on her prediction.
http://www.bravotv.com/watch-what-happens-live/season-7/videos/carolines-prison-prediction
Also during season 4, Chris Laurita said "someone will have to take the fall" when he and Jacqueline were discussing whether or not Teresa would go to jail. He was emphasizing, like his sister Caroline, that Juicy was going to take the fall for Teresa's desire to live the good life.
Furthermore, during season 4, Jacqueline implied that the Giudice's marriage was on the rocks, saying, "Joe and Teresa are both leading separate lives." This is very similar to what a 'show source' told Us Weekly on May 18, 2012:
"A 'show source' told Us Weekly that what's shown on TV only scratches the surface of the Giudice family's unhappy home. 'They're so dysfunctional that it's all starting to come out,' said the 'show source' of Teresa and Joe.
In her Bravo blog, Teresa addressed Jacqueline's on-camera gossip that she and Juicy lead separate lives:
"No, we don't lead 'separate lives.' I have no idea why Jacqueline would bring up that rumor — she seems to love to bring up crazy rumors on camera about everyone else. Not very nice, and definitely not true. Joe still does and always has lived in our house (he's never had a separate 'work apartment' or anything), and he sleeps in our bed with me every night."
In an obscure October 11, 2012 interview by Chaunce Hayden, Rosie Pierri reiterated what Caroline said earlier in June and July 2012 about Juicy being "a shell of the man" he used to be because "Teresa wants it all" – Rosie actually said, "I think my cousin ruined him."
"I like Joe a lot. He was a respectable guy. I think, in my opinion, I think my cousin ruined him. I never seen Joe angry back then. After 20 years gone by, I don't know, I really shouldn't say, it's just my opinion. Maybe I'm wrong, and that's fine. I think the man tried, tried, tried, tried, tried, and she's like, 'I want this! I want that! I want this!' – Rosie Pierri, October 11, 2012
Sylvia Smith on 2013/08/09 at 2:56 PM at Fame-Whorgas commented that Jacqueline and others spent the entire season 4 trying to trick Teresa into revealing on camera what could be incriminating information:
I think it's no coincidence that Jacqueline especially, but probably the others, spent the entire season 4 trying to trick Teresa into revealing on camera what could be incriminating information. There was no reason on earth that Jacqueline should be so intent on finding out about Teresa's finances, if she was paid for articles, and other personal information – unless she was going to use it in some way. Is it really so far fetched that Jacqueline and others agreed to work with the Feds to get the Giudices in order to make their own cases disappear? Each of the other cast members has either been silent or said they won't speak about the case and have claimed they reached out directly – very carefully worded – they didn't say they showed their support. Sounds to me like they're taking the Fifth! Maybe they'll be witnesses for the prosecution and have to stay quiet for now.
The following is an excerpt from Jacqueline's Bravo blog about the deck scene in season 4 episode 8 (taped in early August 2011), where she questioned Teresa about her bankruptcy filing, current lifestyle choices, and getting paid for tabloid stories – the scene lasted for five hours before Caroline was called in to help with the interrogation.
Jacqueline wrote that Teresa was "profiting from people's pity," "so much about her life was being fabricated," "there seemed to be no shortage of money to me," and "she was really living the high life." Jacqueline also wrote that she "was starting not to respect Teresa's choices," "was trying her best not to judge some of the Giudice's life style choices during that time," "wanted answers to all her questions," felt justified "prying into Teresa's business because she was her friend," wanted to know if Teresa "really was in trouble and getting deeper in debt," and "needed to get Teresa to open her eyes to the reality of certain situations she was creating."
The Rules According to Teresa
By Jacqueline Laurita
June 18, 2012
Teresa Giudice Tells Her Story by Glamography: "Where Do I See Myself in Five Years?"

In the video above by Haute Hostess, uploaded by Glam Channel on January 6, 2015, Teresa Giudice answers the question, "Where do I see myself in five years?" Since people tell her she's "made for TV," Teresa says she "just wants to keep it going" and adds that she wants to "keep branding myself." Teresa says she would consider "my own cooking show," "being a judge on a cooking show," or "something like that." She explains: "I definitely want to continue doing something in TV."
UPDATE November 11, 2014: RadarOnline reported on November 11, 2014, that the judge in the Joe and Teresa Giudice's fraud case signed a new order of forfeiture for Teresa and Joe. According to the document obtained by Radar, the Giudices still owe restitution of $214,588.90 "pursuant to the plea agreements," even though they paid $200,000.00 at their sentencing hearing on October 2, 2014. In addition to the total $414,588.90 in restitution that they were ordered to pay toward their Wells Fargo mortgage debt (the original debt was with Wachovia, which completed a merger with Wells Fargo in January 2009) as part of their plea deal, the couple still owes $13 million to many other creditors.
Should they fail to pay, the government can go after their assets, "until the forfeiture money judgment is paid in full," the document states. They can either establish a payment plan or surrender their assets. The U.S. Attorneys Office "is authorized to conduct any discovery needed to identify, locate, or dispose of forfeitable property," the document notes.
At Joe and Teresa Giudice's sentencing hearing for bankruptcy, wire and mail fraud, Joe was sentenced to 41 months in federal prison by U.S. district court judge Esther Salas. Judge Salas sentenced Teresa to 15 months for her part in a bankruptcy and mortgage fraud scheme. The judge ruled Teresa will serve her sentence before husband Joe, and that she must surrender on January 5th, allowing her to spend the holidays with her family. In addition to the prison terms, the judge fined Joe $10,000 and fined Teresa $8,000, sentenced them each to two years of supervised release, and ordered the couple to forfeit $414,588.90. Joe was advised by the court that he faces deportation after serving his sentence; that decision will be made by U.S. Immigrations and Customs Enforcement following completion of his prison term.
"I will say on the outset, I'm going to focus on what I didn't say to your husband, that all of the false declarations, wire fraud, and bank fraud is still your fault," Judge Salas told Teresa in her closing statement. "For a moment, I thought about probation until I read the government's report. What you did in the financial disclosure really sticks in my craw. It's what the court has a problem with. It shows blatant disrespect for the court," she explained. "I've seen a lot, but I've never seen the confusion and work that went into these financial documents… I need a full picture of who you are, I need a full disclosure of your financial assets; it's not because I want to be nosy," Salas continued. "Because of that, I don't think you respect the laws of this country. You are not as bad as your husband; you do not have the criminal record that he has had, but you are complicit in it," Salas added. "Getting this financial information that I need to judge this case was like pulling teeth — it was the most difficult in all my years as a judge and as a lawyer," she argued. "Mr. Giudice was the captain and he will have to live with the sentence I gave him. The first mate deserves a little bit of a break." – Us Weekly, October 3, 2014
…
In July 2013 Joe and Teresa were charged with 41 counts of bank, bankruptcy, wire and mail fraud; and Joe also faced five counts of failing to file tax returns. The fraud charges together carried a maximum penalty of 35 years in prison and $1 million in fines, but under federal sentencing guidelines for their plea agreements, Joe's recommended sentence was 37 to 46 months; Teresa's was 27 months.
Joe pled guilty to 5 charges, Teresa pled guilty to 4. If you read the plea agreements, you'll see they're virtually the same, save the extra charge for Joe — failure to file tax returns. Joe's offense level is 21, Teresa's is 16 — that's why Joe is facing more time. You'll also notice in the plea agreement that all parties agreed to these offense numbers (which the judge uses to determine sentencing). The ONLY difference is this: Teresa reserved the right to argue for a downward departure (of 2 points) under a 'Family Responsibility' provision. This is why Teresa and her lawyer publicly stated that they were going to ask for house arrest or probation only. But this is a a long shot. First off, the government reserved the right to challenge it. Secondly, Teresa and Joe have a huge extended family, so she can't argue that she, and she alone, is desperately needed. The qualifications to meet this provision are very strict and very difficult, and she won't be able to meet it. Lastly, there won't be any talk of "Joe was the mastermind" or "I only signed what was put in front of me." If Teresa tries this, she undermines the whole plea deal, one that includes many stipulations, including admitting her guilt and accepting responsibility for the charges to which she pled guilty. She not only had to agree to this in the signed plea deal, but to then do so in front of the judge at sentencing. Again, denying or diminishing her role in the crimes is contrary to what she agreed to and would work against her, not in her favor. [LotusFlower, September 12, 2014, PreviouslyTVForum]
Though they maintained their innocence and claimed prosecutors targeted them because they're famous ("We're good people. I don't understand why this is happening to us," Teresa said in her first post-indictment interview with Bravo's Andy Cohen), they eventually pleaded guilty in the case. In March 2014 each pleaded guilty to one count of conspiracy to commit mail and wire fraud and three counts of bankruptcy fraud — by concealing assets, falsifying court filings and falsely testifying (they admitted to hiding assets from a bankruptcy trustee). And Joe pleaded guilty to failing to file one year's tax returns.
At the Giudices' sentencing hearing on October 2nd, Judge Salas lambasted the couple for failing to disclose assets on financial forms that were tied to their sentencing, calling it "a direct affront to the court." The Giudices hiding assets even until the bitter end cost Teresa her freedom. The judge explained that she was inclined to grant probation until Teresa submitted false information about her assets to the probation department, which was preparing the pre-sentence report for the court.
Teresa appeared dumbfounded when Salas said that she had first considered probation or home confinement instead of prison time for Teresa but changed her mind when she noticed discrepancies between what the prosecutors had listed as the couple's assets and what the couple had reported to the probation department. "If [Teresa] had put something down, anything, I think [probation] would have been fine with that," Salas said of Teresa's reports to probation officers. "She put nothing down, nothing." Salas repeatedly challenged Teresa's attorney to explain the problem-riddled documents. "I've been a judge for seven years and I have yet to ever see the amount of confusion and work that went into these financial disclosures… It feels as if things have been hidden or concealed." Salas noted that the couple received documents for financial disclosures that should have been turned in by March 4th but were not turned in to the court until August 19th. "I had to put the sentencing off because the financial disclosure wasn't in," she said. – NorthJersey.com, August 3, 2014
Teresa's plea agreement specifically addressed what could happen if she failed to disclose all her assets to the probation department (excerpt below).
In Teresa's plea agreement she consented to the forfeiture of her interests in any assets that she failed to disclose on the Financial Disclosure Statement.
Why RHNJ's Teresa Giuduce Was Sentenced to Prison
TalkLeft.com
October 3, 2014

Real Housewives of New Jersey co-star Teresa Giudiuce was sentenced to 15 months in prison yesterday, while her husband Joe received a 41 month sentence, in a federal fraud case. The Indictment included 41 counts of bank fraud, loan application fraud, bankruptcy fraud, and mail and wire fraud. Joe was also charged with tax offenses. Teresa pleaded guilty to four counts and Joe to five.

Teresa's sentencing guidelines were 21 to 27 months. Joe's guidelines were about double that. (The guidelines are not mandatory, and unless there is a mandatory minimum, which there was not in this case, the judge can impose a sentence below them.)

Teresa was hoping for probation. What went wrong? The judge said yesterday she had been inclined to grant probation, until Teresa submitted false information about her assets to the probation department, which was preparing the pre-sentence report for the court.

Backing up for a minute, here's how the Government described the fraud scheme in a pretrial pleading:

In sum, the Indictment charges Defendants in Count I with engaging in a mail and wire fraud conspiracy involving the submission of fraudulent mortgage and other loan applications and supporting documents to financial institutions and other lenders in order to obtain mortgage and other loans. The Defendants falsely represented on these loan applications and supporting documents that they were employed and/or receiving substantial salaries when, in fact, they were either not employed or not receiving such salaries.

The Defendants also created fake documents such as tax returns, Forms W-2, and paystubs, which they then submitted to the lenders in support of these fraudulent loan applications.

Counts 2 through 13 further charge Defendants with specific instances of bank and loan application fraud resulting from this unlawful agreement.

The Indictment charges in Counts 14 through 36 that, after accruing a large amount of mortgage and other debt in this fashion, Defendants engaged in bankruptcy fraud in connection with the Chapter 7 bankruptcy petition that they filed on October 29. 2009 in U.S. Bankruptcy Court in Newark. The Indictment alleges that during the course of the bankruptcy proceedings, the Defendants repeatedly concealed assets, made false oaths. and made false declarations.

Among other acts of concealment and false statements, Defendants intentionally failed to
disclose their ownership of certain income-producing properties as well as the income they were receiving from those properties. In many instances, these properties were the same properties that they had earlier acquired with the proceeds of false and fraudulent loans.

Finally, the Indictment also charges Giuseppe Giudice with the willful failure to file tax
returns on the basis of his failure to tile a federal income tax return for the years 2004 through 2008.

Now back to the sentencing. After a defendant pleads guilty in federal court, they have to meet with the Probation Department. The Probation Department is tasked with writing a presentence report to the Judge, with a description of the offense, the history of the offender, the applicable guidelines, and a recommended sentence.

To prepare the report, the Probation Department requires the defendant fill out financial disclosure forms, listing his or her assets and liabilities and monthly expenses. Among other things, this helps the court determine whether the defendant has the ability to pay a fine. These documents are very important to the process. Submitting false information to the probation department can result in a separate charge of making a false statement to a federal official or obstruction of justice. (In Teresa's case, according to the Plea Agreement, she had to fill out disclosure forms that were drafted by prosecutors, rather than Probation's usual forms.)

The Judge believes Teresa lied on her financial disclosure forms. That is an affront to the court. And the judge made no bones about the impact. Until the discrepancy of Teresa's disclosures came to light, the Judge had been considering probation.

During Teresa Giudice's sentencing, [Judge] Salas said she had even considered giving her probation combined with home confinement and community service but changed her mind because of the omissions.

"You are a savvy businesswoman. You know how to brand yourself," she said. "You tell me you didn't understand you had to cooperate? It defies logic."

Instead, Teresa got 15 months in prison. According to the New Jersey Record,

The judge noted the total value of the discrepancies at more than $75,000, and cited seven assets that were not listed on any document provided to the court.

What did she leave out?

[A] pool table, jewelry, all-terrain vehicles, closets full of pricey handbags and expensive shoes when reporting their assets.

According to the Judge:

"If [Teresa] had put something down, anything, I think [probation] would have been fine with that," Salas said of Teresa's reports to probation officers. "She put nothing down, nothing."

She repeatedly challenged Teresa's attorney, Klingeman, to explain the problem-riddled documents.

"I've been a judge for seven years and I have yet to ever see the mount of confusion and work that went into these financial disclosures," Salas said.

The Judge didn't buy the attorney's explanation, that Teresa had hired an accountant to prepare the documents and assumed he'd do it correctly. She put the blame squarely on Teresa, telling her:

"I'm not sure you respect this court. I'm not sure you respect our laws. And I'm not sure you understand what you've done," Salas said.

Teresa's plea agreement (Doc. 24, available on PACER) specifically addressed what could happen if she failed to disclose all her assets to probation:

Teresa Giudice agrees to disclose all of her assets to the United States on a Financial Disclosure Statement to be provided by this Office and agrees to provide the Financial Disclosure Statement by the date that a draft presentence report is circulated in this matter. Teresa Giudice agrees that if the government determines that she has intentionally failed to disclose assets on that Financial Disclosure Statement, that failure constitutes a material breach of this agreement.

In addition, Teresa Giudice consents to the administrative, civil, and/or criminal forfeiture of her interests in any assets that she failed to disclose on the Financial Disclosure Statement.

Should undisclosed assets that the defendant owns or in which the defendant has an interest be discovered, Teresa Giudice knowingly and voluntarily waives her right to any required notice concerning the forfeiture of said assets. Teresa Giudice further agrees to execute any document necessary to effectuate the forfeiture of said assets.

It remains to be seen whether the Government will now seek to forfeit Teresa's handbags and shoes or her pool table.

Despite the judge's belief that Teresa lied on her disclosure forms, she still imposed a sentence below the guidelines. Her reasons: The couple has four daughters, Teresa has aging parents, and she was less culpable than her husband. She also gave the couple another break: They can serve their sentences sequentially. Teresa will begin her sentence in January. When she gets out, Joe will start his sentence.

Joe, however, may not make it home. Apparently, he's not a U.S. citizen, having been brought here as a baby by his parents. He says he didn't learn he wasn't a citizen until he was an adult. Bankruptcy fraud is an aggravated felony, requiring deportation at the end of his sentence.

The Guiduces must also pay almost $400k in restitution. Their bankruptcy discharge was denied so they still owe $13 million to creditors. Yet it doesn't seem to have had much of an impact on their lifestyle — or else, as the judge said, they just don't get it:

When it was over, the couple left the federal courthouse in Newark holding hands. They were surrounded by security as they made their way to a white Mercedes-Benz SUV.
UPDATE October 2, 2014: The following was compiled from reports by NJ.com and NorthJersey.com on October 2, 2014 (read their final reports published on October 3, 2014 in the last comment to this blog post).
In a three minute video by BravoTV (click here or here for the video, "Welcome to Teresa's Crib"), Teresa Giudice gives a tour of her home and the furnishings (custom cabinets, Versace vases, Gucci dishes and glasses, etc.), much of which (including the renovation of the home), was purchased with borrowed money (allegedly obtained by defrauding lenders) rather than earned income (they tried to discharge their debt by filing Chapter 7 bankruptcy in October 2009 – the U.S. government has charged the Giudices with lying to the bankruptcy court, including hiding assets and income that could be used to pay off creditors).
Teresa likes nice things, which she is not ashamed to admit. She certainly didn't back off on spending before or after filing bankruptcy on October 29, 2009. In the link below, the U.S. bankruptcy trustee claimed that Teresa went on a $60,000 shopping spree after filing bankruptcy (the PDF file below also includes a receipt for purchases she made about two months before filing):
http://images.eonline.com/static/news/pdf/TeresaGiudiceDocs.pdf
The following is a CBS report about Teresa's spending spree.
Bankrupt "Real Houswives" Star Teresa Giudice Reportedly Spent $60,000 on Furniture and Luxury Goods
CBS News
August 18, 2010

Filing for bankruptcy didn't stop "Real Housewives of New Jersey" star Teresa Giudice from doing what she does best – shopping.

The Bravo star, who owes creditors roughly $10.8 million with her husband Joe, allegedly spent $60,000 on home furnishings and luxury goods just days after filing for bankruptcy last October, according to court documents obtained by E! Online.

The couple's lawyer, Jim Kridel, defended Giudice's lavish shopping spree and said she didn't do anything wrong.

"That was the money she earned as an advance for her book 'Skinny Italian,'" Kridel told People magazine."Since she earned it after the filing, she was absolutely free to spend it."

Kridel added that Giudice needed to buy household necessities, but also acknowledged that her spending spree would "draw scrutiny."

"She needed to re-buy furniture because she didn't have any furniture in the house," Kridel told People. "It's a big house and she wanted furniture consistent with her style on the show. There is nothing wrong with doing that, except that it doesn't look good for her to be doing it."

http://www.cbsnews.com/news/bankrupt-real-houswives-star-teresa-giudice-reportedly-spent-60000-on-furniture-and-luxury-goods/

Note from Fame: Teresa's cookbook advances for Skinny Italian were prior to her bankruptcy filing; however, she failed to disclose this, as well as other income (including her Bravo raise for season 2), on her petition filed on October 29, 2009, which is why, in the federal indictment against the Giudices, counts 12-34 include bankruptcy fraud.
In October 2011, Jacqueline went off on Twitter, saying Teresa was laughing at beating the system and planning to file bankruptcy again:
In a video by Access Hollywood (click here for the video, "Access Hollywood 'Real Housewives of New Jersey': 'We Have the Audacity to Be Real!'") is another flashback with Teresa, Caroline and Jacqueline, happily explaining how "the attention they get is always positive."
For a final flashback (click here for the video, "The Real Housewives of New Jersey Anniversary Equals Diamonds"), a week before Joe and Teresa filed bankruptcy on October 29, 2009, they celebrated their 10-year anniversary with a helicopter ride and diamonds. Teresa told Jacqueline, "I really want him to make it big." Joe told Chris, "It ain't like the money's flowin' like it yous ta, ya know what I mean?"
Caroline Manzo predicted in a testimonial (TH) during season 4 episode 13 – which was taped in 2011 – that Teresa Giudice would leave her husband if he goes to prison and then she would write a tell-all book for the sole purpose of making money.