Archive for August, 2015
This blog post was originally published on August 10, 2013.
Caroline Manzo predicted in a testimonial (TH) during season 4 episode 13 – which was taped in 2011 – that Teresa Giudice would leave her husband if he goes to prison and then she would write a tell-all book for the sole purpose of making money.
"Prediction: Something may happen where someone has to go somewhere. Teresa's going to have to pull herself up on her bootstraps and take over. She'll say, 'You know what, I tried. I stood by him, but I have to divorce him now. And I'm gonna show my daughters what it's like to be strong and independent on your own and survive.' There's a book in there – you heard it here first!"
Caroline also said that Teresa pushed Juicy to his limit "trying to keep up with the Gorgas;" and, as a result, he will pay the "ultimate price" for Teresa "wanting it all":
"Teresa wants it all, and I think that the demands she put on him led him to make decisions that weren't the best. And I think he resents her for it, and he's going to pay the ultimate price for it."
By "ultimate price," Caroline means Juicy will be going to prison.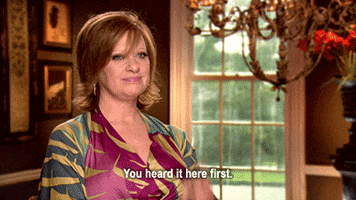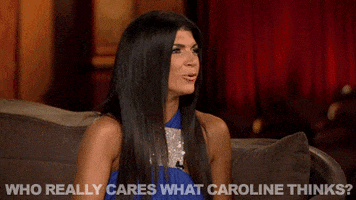 Caroline implied in her June 4, 2012, Bravo Blog that if it wasn't for Teresa's demands, Juicy would be a "fun, carefree man, happy to be living in a cardboard box":
"I also meant what I said about him being a shell of the man I met a few years ago. The Joe I remember was fun, carefree. I truly believe that back then he didn't need more than a good cigar, a bottle of homemade wine, and his family and friends around him to be happy. The guy could live in a cardboard box and be happy. Something changed along the way, and he's become bitter, guarded. Sad, we all miss the old Joe. I'm not saying this for brownie points, or to be politically correct. I mean this sincerely."
Us Weekly ran a story on May 29, 2012, which was very similar to what Caroline said in her season 4 episode 13 testimonial. Here's the quote from a 'show source':
"If Joe goes to jail, there will be sympathy for her. And she'll get a spinoff about life as a single mom. She'll do a book deal, too: 'My Life Without Joe' or something like that."
Caroline went on WWHL the night season 4 episode 13 premiered on July 22, 2012, and defended her comments. Below is the Bravo video link for Caroline's prediction that Juicy will go to prison (season 4 episode 13) plus the video of Caroline's appearance on WWHL where she expands on her prediction.
http://www.bravotv.com/watch-what-happens-live/season-7/videos/carolines-prison-prediction
Also during season 4, Chris Laurita said "someone will have to take the fall" when he and Jacqueline were discussing whether or not Teresa would go to jail. He was emphasizing, like his sister Caroline, that Juicy was going to take the fall for Teresa's desire to live the good life.
Furthermore, during season 4, Jacqueline implied that the Giudice's marriage was on the rocks, saying, "Joe and Teresa are both leading separate lives." This is very similar to what a 'show source' told Us Weekly on May 18, 2012:
"A 'show source' told Us Weekly that what's shown on TV only scratches the surface of the Giudice family's unhappy home. 'They're so dysfunctional that it's all starting to come out,' said the 'show source' of Teresa and Joe.
In her Bravo blog, Teresa addressed Jacqueline's on-camera gossip that she and Juicy lead separate lives:
"No, we don't lead 'separate lives.' I have no idea why Jacqueline would bring up that rumor — she seems to love to bring up crazy rumors on camera about everyone else. Not very nice, and definitely not true. Joe still does and always has lived in our house (he's never had a separate 'work apartment' or anything), and he sleeps in our bed with me every night."
In an obscure October 11, 2012 interview by Chaunce Hayden, Rosie Pierri reiterated what Caroline said earlier in June and July 2012 about Juicy being "a shell of the man" he used to be because "Teresa wants it all" – Rosie actually said, "I think my cousin ruined him."
"I like Joe a lot. He was a respectable guy. I think, in my opinion, I think my cousin ruined him. I never seen Joe angry back then. After 20 years gone by, I don't know, I really shouldn't say, it's just my opinion. Maybe I'm wrong, and that's fine. I think the man tried, tried, tried, tried, tried, and she's like, 'I want this! I want that! I want this!' – Rosie Pierri, October 11, 2012
Sylvia Smith on 2013/08/09 at 2:56 PM at Fame-Whorgas commented that Jacqueline and others spent the entire season 4 trying to trick Teresa into revealing on camera what could be incriminating information:
I think it's no coincidence that Jacqueline especially, but probably the others, spent the entire season 4 trying to trick Teresa into revealing on camera what could be incriminating information. There was no reason on earth that Jacqueline should be so intent on finding out about Teresa's finances, if she was paid for articles, and other personal information – unless she was going to use it in some way. Is it really so far fetched that Jacqueline and others agreed to work with the Feds to get the Giudices in order to make their own cases disappear? Each of the other cast members has either been silent or said they won't speak about the case and have claimed they reached out directly – very carefully worded – they didn't say they showed their support. Sounds to me like they're taking the Fifth! Maybe they'll be witnesses for the prosecution and have to stay quiet for now.
The following is an excerpt from Jacqueline's Bravo blog about the deck scene in season 4 episode 8 (taped in early August 2011), where she questioned Teresa about her bankruptcy filing, current lifestyle choices, and getting paid for tabloid stories – the scene lasted for five hours before Caroline was called in to help with the interrogation.
Jacqueline wrote that Teresa was "profiting from people's pity," "so much about her life was being fabricated," "there seemed to be no shortage of money to me," and "she was really living the high life." Jacqueline also wrote that she "was starting not to respect Teresa's choices," "was trying her best not to judge some of the Giudice's life style choices during that time," "wanted answers to all her questions," felt justified "prying into Teresa's business because she was her friend," wanted to know if Teresa "really was in trouble and getting deeper in debt," and "needed to get Teresa to open her eyes to the reality of certain situations she was creating."
The Rules According to Teresa
By Jacqueline Laurita
June 18, 2012