This blog post was originally published on August 10, 2013.
Caroline Manzo predicted in a testimonial (TH) during season 4 episode 13 – which was taped in 2011 – that Teresa Giudice would leave her husband if he goes to prison and then she would write a tell-all book for the sole purpose of making money.
"Prediction: Something may happen where someone has to go somewhere. Teresa's going to have to pull herself up on her bootstraps and take over. She'll say, 'You know what, I tried. I stood by him, but I have to divorce him now. And I'm gonna show my daughters what it's like to be strong and independent on your own and survive.' There's a book in there – you heard it here first!"
Caroline also said that Teresa pushed Juicy to his limit "trying to keep up with the Gorgas;" and, as a result, he will pay the "ultimate price" for Teresa "wanting it all":
"Teresa wants it all, and I think that the demands she put on him led him to make decisions that weren't the best. And I think he resents her for it, and he's going to pay the ultimate price for it."
By "ultimate price," Caroline means Juicy will be going to prison.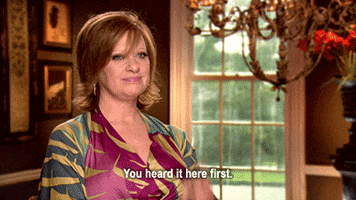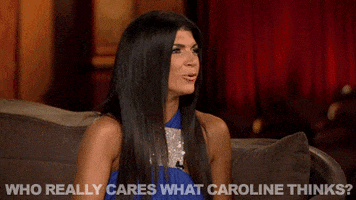 Caroline implied in her June 4, 2012, Bravo Blog that if it wasn't for Teresa's demands, Juicy would be a "fun, carefree man, happy to be living in a cardboard box":
"I also meant what I said about him being a shell of the man I met a few years ago. The Joe I remember was fun, carefree. I truly believe that back then he didn't need more than a good cigar, a bottle of homemade wine, and his family and friends around him to be happy. The guy could live in a cardboard box and be happy. Something changed along the way, and he's become bitter, guarded. Sad, we all miss the old Joe. I'm not saying this for brownie points, or to be politically correct. I mean this sincerely."
Us Weekly ran a story on May 29, 2012, which was very similar to what Caroline said in her season 4 episode 13 testimonial. Here's the quote from a 'show source':
"If Joe goes to jail, there will be sympathy for her. And she'll get a spinoff about life as a single mom. She'll do a book deal, too: 'My Life Without Joe' or something like that."
Caroline went on WWHL the night season 4 episode 13 premiered on July 22, 2012, and defended her comments. Below is the Bravo video link for Caroline's prediction that Juicy will go to prison (season 4 episode 13) plus the video of Caroline's appearance on WWHL where she expands on her prediction.
http://www.bravotv.com/watch-what-happens-live/season-7/videos/carolines-prison-prediction
Also during season 4, Chris Laurita said "someone will have to take the fall" when he and Jacqueline were discussing whether or not Teresa would go to jail. He was emphasizing, like his sister Caroline, that Juicy was going to take the fall for Teresa's desire to live the good life.
Furthermore, during season 4, Jacqueline implied that the Giudice's marriage was on the rocks, saying, "Joe and Teresa are both leading separate lives." This is very similar to what a 'show source' told Us Weekly on May 18, 2012:
"A 'show source' told Us Weekly that what's shown on TV only scratches the surface of the Giudice family's unhappy home. 'They're so dysfunctional that it's all starting to come out,' said the 'show source' of Teresa and Joe.
In her Bravo blog, Teresa addressed Jacqueline's on-camera gossip that she and Juicy lead separate lives:
"No, we don't lead 'separate lives.' I have no idea why Jacqueline would bring up that rumor — she seems to love to bring up crazy rumors on camera about everyone else. Not very nice, and definitely not true. Joe still does and always has lived in our house (he's never had a separate 'work apartment' or anything), and he sleeps in our bed with me every night."
In an obscure October 11, 2012 interview by Chaunce Hayden, Rosie Pierri reiterated what Caroline said earlier in June and July 2012 about Juicy being "a shell of the man" he used to be because "Teresa wants it all" – Rosie actually said, "I think my cousin ruined him."
"I like Joe a lot. He was a respectable guy. I think, in my opinion, I think my cousin ruined him. I never seen Joe angry back then. After 20 years gone by, I don't know, I really shouldn't say, it's just my opinion. Maybe I'm wrong, and that's fine. I think the man tried, tried, tried, tried, tried, and she's like, 'I want this! I want that! I want this!' – Rosie Pierri, October 11, 2012
Sylvia Smith on 2013/08/09 at 2:56 PM at Fame-Whorgas commented that Jacqueline and others spent the entire season 4 trying to trick Teresa into revealing on camera what could be incriminating information:
I think it's no coincidence that Jacqueline especially, but probably the others, spent the entire season 4 trying to trick Teresa into revealing on camera what could be incriminating information. There was no reason on earth that Jacqueline should be so intent on finding out about Teresa's finances, if she was paid for articles, and other personal information – unless she was going to use it in some way. Is it really so far fetched that Jacqueline and others agreed to work with the Feds to get the Giudices in order to make their own cases disappear? Each of the other cast members has either been silent or said they won't speak about the case and have claimed they reached out directly – very carefully worded – they didn't say they showed their support. Sounds to me like they're taking the Fifth! Maybe they'll be witnesses for the prosecution and have to stay quiet for now.
The following is an excerpt from Jacqueline's Bravo blog about the deck scene in season 4 episode 8 (taped in early August 2011), where she questioned Teresa about her bankruptcy filing, current lifestyle choices, and getting paid for tabloid stories – the scene lasted for five hours before Caroline was called in to help with the interrogation.
Jacqueline wrote that Teresa was "profiting from people's pity," "so much about her life was being fabricated," "there seemed to be no shortage of money to me," and "she was really living the high life." Jacqueline also wrote that she "was starting not to respect Teresa's choices," "was trying her best not to judge some of the Giudice's life style choices during that time," "wanted answers to all her questions," felt justified "prying into Teresa's business because she was her friend," wanted to know if Teresa "really was in trouble and getting deeper in debt," and "needed to get Teresa to open her eyes to the reality of certain situations she was creating."
The Rules According to Teresa
By Jacqueline Laurita
June 18, 2012
The New York Daily News reported on December 11, 2015 that the 'Real Housewives of New Jersey' has a "new deal" where the cast "only gets paid if they get air time" by "making ratings-grabbing TV."
The "Real Housewives Of New Jersey" better be ready to bring some weapons-grade drama to the next season — or risk a pay cut.

Until now, the stars had been paid a lump sum for the whole season. But Confidenti@l is told that producers will now only pay them for episodes they appear in.

Sources say the idea is to encourage the ladies to make ratings-grabbing TV, rather than coast and cash their paychecks.

We're told the show's longest running stars, Melissa Gorga and the soon-to-be-released-from-prison Teresa Giudice, will each be paid $50,000 per episode — if they make it in that week.

It's unclear how much a third Housewife, Jacqueline Laurita, will get, but sources agree it is likely to be less because she skipped last season.

"The problem is you could sign a contract for an $800,000 salary and then sit back and do nothing," said a source, "This way, you really have to bring it."

"Across all the ("Housewives") series there are people who are more committed and people who are less committed," said another insider. "People sign up to do it and then lose their enthusiasm."

This new plan is intended to combat that problem by encouraging maximum participation.

We're told the new system doesn't necessarily mean a pay cut for the combustible cast. Since the previous six seasons have had an average of 19 episodes, a Housewife deemed worthy of screen time in each episode could bag nearly $1 million at the end of the season — that would come close to the salaries of highest-paid Housewives across the whole franchise, like Nene Leakes and Bethenny Frankel.

Some of the "Real Housewives of New York" cast members moved to a per-episode pay plan last season and insiders say the same carrot-and-stick approach may add some zing to other series, like Atlanta and Beverly Hills — so we may see the plan rolled out to other shows when contracts are next negotiated.

Three part-time members of the cast — known as "friends of the Housewives" and heavily tipped to be matchmaker Siggy Flicker and couple Robyn Levy and Christina Flores — are expected to stay on a salary, somewhere around the $50,000 mark for the whole season.
Teresa Giudice's mugshot above was published on the internet in early January 2015, and I was able to save a copy before it was quickly scrubbed. It must have been leaked by prison staff because federal inmates' mugshots are considered the property of the federal government and are not made available to the public.
UPDATE 2/9/2016: Teresa confirmed in her prison memoir that the mugshot above is real:
"After I got dressed, it was time for my prison photo shoot. For a moment this reminded me of the many photographs I had posed for in magazines and promos for the show. But here I was getting my mug shot. Me? Getting a mug shot? Oh my God… Someone did end up releasing it to the media later on, but I didn't care because I thought it was a good picture."
In the mugshot, Teresa isn't wearing her usual false eyelashes and heavy makeup, and her hair is a shorter than normal. She has been wearing her hair long for the past few years with the help of extensions.

She was photographed at the 3KT concert at iPlay America in Freehold, New Jersey, on December 26, 2014 (image below), with her long hair, so she was still wearing the extensions a week before her prison surrender date.

Also in the mugshot, Teresa appears to be wearing a necklace, which could be the "necklace with two medals" that her attorney, James L. Leonard, Jr., says he gave to her just before surrendering to prison:

Leonard told PEOPLE magazine that he presented Teresa with a set of rosary beads and a necklace with two medals – one for St. Christopher and one for St. Teresa. "They let her keep all of that," he says. "She was very happy with that, and she told me she would keep them with her all the time."
The photos below, published by TMZ, were taken of Teresa at a diner about a mile away from Danbury prison, where she ate before surrendering at 3 AM on January 5, 2015. She reportedly was wearing a black sweat suit. Her hair is these photos matches her hair in mugshot.
UPDATE 1/6/2016: The photo below was taken at Danbury federal prison on December 23, 2015, the day of Teresa's release. It is clear from the her mugshot, prison photo, and prison-release photo that Teresa wears hair extensions for the show and public appearances.
Teresa will finish out the rest of her sentence, until February 5, 2016, on house arrest. She will be permitted to leave her home for work, doctor's appointments and court dates. According to a source for RadarOnline:
Teresa "is required to check in daily with the Federal Location Monitoring program that is overseeing her house arrest. The ankle bracelet Teresa must wear until February also gives officials her exact location. While under house arrest, Teresa must be home no later than 9 pm. If she has a work commitment later than that, she must get prior approval."
UPDATE 4/1/2015: The photo below of Teresa Giudice with Joe and their daughters was taken in the visiting room of Danbury federal prison. The Giudices sold the story and the first photos of Teresa in prison to Us Weekly as an exclusive (daughters Gia and Gabriella were cropped from the tabloid magazine's cover). If the Giudices didn't sell photos, the paparazzi or someone else would have done so, and it would have been others making money off the Giudices without any of it going to the family, and it would have been outside of their control. The problem is not that they are selling stories and photos, but that the haven't used any of their earnings over the past five years to pay off their debts other than the $414,588.90 in restitution that they were ordered to pay toward their Wells Fargo mortgage debt as part of their plea deal (the couple still owes more than $10 million to other creditors). It also rubs many people the wrong way when Joe and Teresa include their children in the photo spreads.
E! News reported on the story:
With her tan fading and her naturally curly hair flowing freely, Teresa puts on a happy face for the camera as her husband shares new details about her life in prison. Teresa puts on a smile for her family, too. "She comes out with her smile, with a little wave," Joe says.

According to Joe, the girls make nightly phone calls to Teresa and drive 80 miles a week to visit her in Connecticut. "I cry more than the girls," he says. "I pretty much cry every time I leave. Like a little baby."

During their six-hour reunions, Teresa, 42, helps her daughters with their homework while the younger ones take turns sitting on her lap. "It's not a horrible place," Joe explains. "She never says anything bad."

While Gia, Gabriella and Milania realize Teresa is in prison, Joe says Audriana "thinks she's working."

Incarcerated since Jan. 5, Teresa—AKA Inmate No. 65703-050—begins each day with a 6 a.m. wakeup call. After putting on her khaki uniform, she reports to the cafeteria for breakfast and then hits the gym for the first of three workouts. "She exercises after every meal. It's like a low-budget spa. They do spin classes, ab classes. She's getting pretty ripped up," Joe says, adding that other inmates "give her space."

"Everyone I encounter—from the inmates to the staff—tell me the Teresa they have come to know is nothing like the Teresa they've seen on television," her attorney, James. J. Leonard Jr., tells Us Weekly.

Teresa has made a "little group of friends," and they watch TV shows like Empire and Scandal.

"I miss Joe and my girls terribly, but we are going to get through this as a family one day at a time," Teresa says (through her lawyer). "We will be stronger because of this. Nothing can break us apart."