Archive for the 'Danielle Staub and the Melissa Gorga Connection' Category

6 Indian Lane, Towaco (Montville Township), NJ
According to a source for NY Daily News, during the production of RHONJ season 1 in the Spring/Summer of 2008, Teresa was living in a modest home near Paterson but would only allow cameras at the mansion in Towaco, which was still in the construction phase:
"Their house was nothing like what you see on TV — it was small, with linoleum tiles on the kitchen floor," the source said. Bravo agreed to bring her on after she was championed by fellow Housewives Jacqueline Laurita and the Manzo sisters, Dina and Caroline, the source said. At the time, Teresa and Joe were building their monstrous McMansion — and that was the only house the Giudices allowed the public to see. While they pretended their wallets were full, in reality, according to the federal indictment against them, Teresa and Joe had for most of their marriage taken elaborate steps to trick banks and other creditors into lending them money. Like a shell game, the couple borrowed from one to pay another, and when that money ran out, they borrowed some more.
While season 1 was taping in 2008 and airing in 2009, a "very close relative" of Teresa (perhaps Melissa) was busy badmouthing her on a blog called OnCommonGround — regarding Teresa's home, the relative wrote that Teresa used to live in a "shit hole of a house in Lincoln Park with a mazaratti parked out front" and that "she owes more than $1.7 million on a 50-year mortgage":
"One of the pathetic losers that are on this show, is a very close relative of mine. Don't understand how that show chose her to be on tv. If anyone knows who I might be talking about, what an idiot, clueless mother and a housewive that has no idea what her husband does and who. She definitely needs a reality check."

"Born and raised in Paterson and and then thinking that she has the wonderful life that these women so called have on this show. This is all just a show because that woman has nothing just a bunch of credit cards with a high balance!!!!!"

"I saw one of the housewives just recently. I don't need to kiss anyones' ass especially her. Don't know what definition of beautiful, funny, entertaining your talking about and believe me no one is kissing her ass in this family. She came from nothing and now she thinks she's living that perfect lifestyle. Believe me everyone in this family is laughing at her. She's a mess!!!CLUELESS about life! Try having a conversation with her, what a dumbass."

"Ya, if this chick in Montville was so RICH, why would she owe more than $1,700,000 (50 year mortgage) on her house that is only worth market value of $1,400,000? I smell too much of leveraging equity to show off with fancy cars and clothes. This is not a sustainable lifestyle."

"One of them…the one that lives in Montville now used to live in a shit hole of a house in Lincoln Park with a mazaratti parked out front. Hmmmm can someone say dirty money. Yeah right 'construction' HAH."

Joe Giudice returning home in his Corvette in 2013
So where did Teresa Giudice live before the mansion?
The Giudice's home at 38 Nagle Street in Paterson, NJ was Joe's residence when Teresa married him in 1999, which they sold sometime in 2004 or earlier. In 2005, they purchased 86 Pine Brook Road in Lincoln Park, NJ, which they lived in before moving into 6 Indian Lane in Towaco, NJ in late 2008.

They purchased 6 Indian Lane in Towaco, NJ in December 2001; however, it took more than seven years to renovate it because they didn't have funds to complete the project until they took out a $1.7 million construction loan in February/March 2008, a few months after signing up to do the show (remember that Teresa told her brother Joe that the reason he finished his mansion first was because the Gorgas had a construction loan).
1. On mortgage documents in 2000-2001, Joe and Teresa listed 38 Nagle Street, Paterson, NJ (which Joe, before he married Teresa, purchased in July 1996 for $88,200) as their primary address (in less than a week's time in late November 2000, they took out three loans on the property; in February 2003, Joe granted the deed for 38 Nagle Street to Teresa for $100).
Image above is from document number 2001010278 recorded on 2/7/2001 in Passaic County, NJ
2. In April 2009, a relative or close friend of Teresa (probably Melissa) wrote on a blog called OnCommonGround that the Giudices used to live in a "shit hole of a house in Lincoln Park with a mazaratti parked out front."
According to the U.S. government's complaint objecting to the discharge of the Giudice's debt via their bankruptcy filing on October 29, 2009, Joe failed to disclose a leased 2005 Maserati Quattroporte in his name (in November 2013, he was pulled over in the Maserati and issued two citations) and Teresa failed to disclose rental income from the Lincoln Park residence in her name, which she leased to tenants beginning in April 2009.
In July 2005, the Giudices purchased, in Teresa's name, the 4 bedroom, 1 bath, 1122 SF home (built in 1920 on a 1/2 acre) at 86 Pine Brook Road, Lincoln Park, NJ, which was their primary residence until September 2008. The property is still in Teresa's name and currently is for sale (although, according to People magazine, they surrendered the Lincoln Park property and a second property when they amended their bankruptcy petition — amendments were filed on December 17, 2009 and January 8, 2010; their original petition was filed on October 29, 2009).

86 Pine Brook Road, Lincoln Park, NJ

Image above is from page 17 of the July 29, 2013 federal indictment against the Giudices
3. On mortgage documents in December 2001, Teresa listed as her primary address the mansion at 6 Indian Lane, Towaco, NJ, which they purchased on December 14, 2001 for $530,000 (in 2001, the 3.77 acre lot was valued at $169,700 and the buildings were valued at $424,900). Although they purchased the home in late 2001, they did not move into the home until they completed the remodel in September 2008 (hence Melissa congratulating them on their "redone house").
In February/March of 2008, after signing their original Bravo contracts in late 2007, the Giudices took out a $1.7 million construction loan so that they could complete the remodel more quickly and feature the home on the show.
When season 1 was taping in 2008, the Giudices were still in the process of remodeling the mansion and were living at their home in Lincoln Park — they didn't convert their $1.7 million construction loan into a $1.72 million mortgage loan until September 2008. However, Teresa says differently in her blog on October 14, 2013:
"I do work hard and make my own money. You haven't seen my husband buy me an Hermes bag or brag about fancy cars. We're really not like that. We bought our house for $500,000 and we've lived in it for 12 years. We took a 'used' house and fixed it up. We've both of us worked hard every single day."
When they purchased the home in late 2001, it had only 4863 SF. The Giudices added an addition to the home as they were remodeling it — it appears they did not tear down the original structure but instead added the huge addition to the back side of it, more than doubling the square footage from 4863 SF to 10044 SF (public records list 1975 as the year the home was built, which normally would mean that the original structure was not totally demolished).
The assessed value of the mansion increased from $424,900 in 2008-2010 to $1,215,300 in 2011. In 2012-2013, the home was assessed at $1,766,300, perhaps because they added an attached carport and a detached garage in 2012 and installed a pool and poolhouse in 2013. Yearly taxes on the home are currently $38,859.
Based on public property records, the Guidices purchased their home in Towaco in December 2001 for $530,000 (this was before the real estate bubble) – the home was only 4863 SF at the time. Their original mortgage of $379,500 was taken out on December 14, 2001; a second mortgage of $210,000 was taken out on May 21, 2003; and home equity lines of credit for $250,000 and $170,000 were taken out on December 8, 2006 and February 5, 2007, for a total of $1,009,500. In February/March 2008, the Giudices received a $1.7 million construction loan for the mansion, which in September 2008 was converted to a 50-year first mortgage of $1.72 million.

Teresa Giudice posing by her pool, installed in 2013
On mortgage documents in 2002 and later, both Joe and Teresa almost consistently listed 6 Indian Lane Towaco, NJ as their primary address, even though they lived at 38 Nagle Street in Paterson until 2004 or 2005 and then 86 Pine Brook Road in Lincoln Park until late 2008.
Teresa's former home in Lincoln Park, "the little hole with linoleum floors" as described by Danielle in the season 1 finale (see below), was never featured on the show (season 1, taped in the Spring/Summer of 2008, aired in the Spring/Summer 2009, and had only 8 episodes, including the reunion):
"Teresa's threatening me as I'm leaving. She goes, 'You're lucky you're leaving in one piece.'

"I would take her down. She talks. She 'Blah blah blah blah.' I just looked at her like, 'Are you kidding?'

"And let's not mention the little hole she was living in before she moved into the mansion she's living in now. Frickin' linoleum floors. Unfreakin' believable.

"I don't take threats kindly. Dina threatened me once and look where it got here – her whole family turned against her on that one."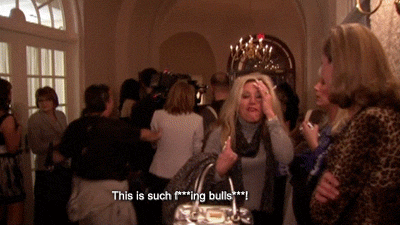 During taping for season 2, which began in the fall of 2009, Teresa decided to confront Danielle at the Posche fashion show (season 2 episode 10) — remember, on the evening of the season 2 Posche fashion show, Danielle's comments (above) during the season 1 finale were fresh in Teresa's head, plus Danielle had been seated at a table with Monica Chacon and Kim Granatell, who were spreading rumors about the Giudice's home being in foreclosure due to their bankruptcy filing on October 29, 2009 (the Giudices were making mortgage payments on the mansion and the bank had not begun any foreclosure procedure).
The following is a partial transcript of the season 2 Posche fashion show confrontation between Danielle and Teresa (video here):
Danielle: What is that ghetto thing you're doing?

Teresa: Don't forget girlfriend, I'm from Paterson (sarcastically). Did you forget?

Danielle: Yeah, I know! I saw the house you lived in, Teresa, before you moved into the mansion.

Teresa: So what bitch! I live in a $5 million home now, bitch!

Danielle: And it's in foreclosure.

Teresa: No it's not! My house is not in foreclosure, bitch!

Jacqueline interjects: Danielle! I read your court records! You beat somebody with a 9mm pistol!

Danielle (regarding Teresa and the people trying to stop her from leaving): Get her away from me. Get her away from me! Don't hold me!

Teresa: You are a coke whore! (pause) Bitch! (repeats this several times as Danielle tries to leave the country club)

Danielle (in desperation): Get me out of here.

Teresa (being held back): The bitch ran away!

Kim G's driver tries to hold back Teresa, telling her to be classy and not to follow Danielle as she tries to go to the car after Ashlee Holmes pulled out her hair extensions.

Kim G's Driver to Teresa (as she's moving outside to follow Danielle): You're like a gazelle, fast.

Teresa to Driver (as the driver is trying to stop her from walking toward the Bentley where Danielle is inside, crying): I swear to God, I'm cool. I swear on my kids. Trust me, I swear to God on my kids, I'm cool.

Teresa: The bitch better come out and talk to me.

Jacqueline tries to stop Teresa.

Teresa: I want to talk to the bitch!
During season 1, Teresa said she had known Danielle only for a few months, so there is no way Danielle would have known about Teresa's former home and that it had 'linoleum floors' unless someone told her about it. If Melissa is the one to tell Danielle this, then Melissa was in contact with Danielle at least a year and a half before she first claimed they had contact.
Melissa claims her first contact with Danielle was about the 'sprinkle cookie' comment she posted on Facebook in December 2009. Melissa tweeted that Danielle initiated contact AFTER Melissa posted about the 'cookie incident' on her Facebook page on December 28, 2009 (she repeated this story in her Bravo blog for season 4 episode 7).
Melissa's story that Danielle "approached her" first in December 2009 contradicts the story that Danielle tells.
On WWHL on September 9, 2013, Andy Cohen showed Danielle a clip of Melissa saying Danielle in-boxed her on Facebook about the sprinkle cookies and that she never met her in person. Danielle responded with the following comment:
"Well, the one truth in there is that we did never meet; however, it was because I wouldn't allow that to happen. She wanted to film during season 2, and she thought it would be a good way to get back at Teresa. And I said I wanted absolutely nothing to do with that, however, I would forward all her e-mails, which were a lot, to the producers, which I did. Which is how, after two seasons of her being behind the scenes — on camera but behind the scenes — she all the sudden became a person of interest and that's how she landed on the show. Um, I think that it would be good for her to just come clean. I wanted nothing to do with what she wanted to do to Teresa. It's not my place. I don't play with that. Karma has a return policy and it isn't an exchange."
On September 6, 2010, Danielle told Out.com that the Gorgas had been directly contacting her for the past year and a half, which would date their first contact around March 2009 (well after the "linoleum floors" comment made by Danielle in the summer of 2008 during the season 1 finale):
"Teresa never greeted her nephew. I have proof of that in email. She never said congratulations to her brother when her nephew was born. Her brother has been directly contacting me for the past year and a half, letting me know how he feels about his sister. And how he and his wife – pregnant wife – were thrown from her house because they brought my favorite cookies to Christmas Eve. My favorite cookies. From Corrado's! The ones I took on The Today Show in season 1.

"And not once do you see her with her brother and her sister-in-law and their beautiful children. Not once! But she glorifies everybody else. Why couldn't she show her real family? Why? Just tell me why? Because they have more than her maybe? Because she's jealous of them maybe? Or maybe they would have told the truth and said Teresa goes off like that all the time. 'It's not just Danielle. Teresa's certifiably crazy.' I think they're going to have their chance now to speak the truth. Go for it, I'm all behind you."
In August 2011, Danielle tweeted that Melissa sent the following message to her in November 2009:
"will you help me expose Teresa and Joe please?"
Following Danielle's tweet, Melissa tweeted the following denial:
"Let's be clear. After I posted abt the xmas cookies incident on FB she approached me to film w/ her. Did I film? No! Begged her? Please."
Danielle then responded, saying she saved emails and voice-mails from Melissa:
"Be careful dear I saved all your lengthy emails and recorded your calls to me you sure you wanna lie ???"
Let's contrast the above tweet by Melissa in August 2011 with her statement in her June 12, 2012 Bravo blog, A Real 'Rockstar':
"When I was pregnant with Joey, Danielle reached out to me on Facebook after I posted about the Christmas cookie incident. Yes, I did talk to her. For some reason I felt sorry for her watching how Teresa went after her, and I did vent to her about my issues with Teresa. This was all addressed already at the Season 3 reunion. It was well over three years ago and since then I thought that we were working to get to a better place, but I guess I have moved on and she has not."
Teresa's response to Danielle's tweets indicate that she believed the exchanges between Melissa and Danielle did occur:
"But someone else was tweeting tonight too. Thank you @daniellestaub for telling the truth. I'm sad but not surprised."
"If liar Melissa admitted to exchanging a few tweets and an email, imagine what the real truth is! I bet Melissa had been spamming Danielle with a storm of tweets, Facebook messages, and emails, begging Danielle to have her featured on the show as 'a friend of Danielle'. She's worse than Kim G, who, if I'm not mistaken, shared her personal driver with Danielle just to be on camera!" [Stanton Hargrave, June 12, 2012, Teresa's Bravo Blog]

6 Indian Lane, Towaco (Montville Township), NJ before the carport addition
Season 2, Episode 9: "Posche Spite"
Danielle shows Kim G a text that Ashley sent to her:
"You and I and God both know where you are going, to hell."
Danielle goes to Posche. Kim D isn't there as she expected. Danielle perceives she is being snubbed by the clerk, who Danielle has never seen in her life. When Kim D returns to the store, Danielle reenters and says:
"As your friend, I'm going to say, I love you too much to come in here and be treated like this. I don't know why this happening. I can tell you I am not going to be able to shop here anymore because I want to keep our friendship."
Kim D responds by saying to Danielle:
"What is the big deal. You can't lighten up ever?!"
Kim D suggests Danielle leave her store.
Kim D has lunch with Jacqueline and Teresa, and she invites them to the PFS. Teresa asks Kim D how does she know that she can trust her since she is turning on Danielle? Kim D acknowledges Teresa's question by admitting that right now Teresa doesn't know what to think since they are just acquaintances:
"We're acquaintances; we're friendly right now."
Danielle in her TH says that she got text messages from 16 people telling her Jacqueline and Teresa with be at Kim D's fashion show – Kim D had invited Danielle to the show months earlier.
Danielle TH:
"Little confused about why Kim D has invited enemies. Kim D is absolutely, positively playing me for the last time. She's showing me what kind of friend she is. I can't believe she's inviting Teresa and Jacqueline to her fashion show. But I don't want Kim to know that I'm hurt and betrayed. I'm done. I'm on to you. And you know what! Hang out with those woman all you want. You should have told me because a friend of mine would have let me know. You've disrespected me, and that will not happen again… And I pay you on top of it and support your tiny little boutique. Believe me, she will miss my money (ha ha). Bye bye (waves)."
Season 2 Episode 10: "Country Clubbed"
Teresa's TH, explaining that it was Danielle's fault for what happened at the country club after the PFS:
"I was trying to be nice and Danielle started it."
Kim G's driver tries to hold back Teresa, telling her to be classy and not to follow Danielle as she tries to leave the country club after she and Teresa argued about her house being in foreclosure (a lie passed on to Danielle from Melissa, no doubt – Melissa is probably the one who also told Danielle to drive by Teresa's old home, the one with "linoleum floors" that Danielle mocked during their argument).
Kim G's Driver to Teresa (as she's moving outside to follow Danielle): You're like a gazelle, fast.

Teresa to Driver (as the driver is trying to stop her from walking toward the Bentley where Danielle is inside, crying): I swear to God, I'm cool. I swear on my kids. Trust me, I swear to God on my kids, I'm cool.

Teresa: The bitch better come out and talk to me.

Jacqueline tries to stop Teresa.

Teresa: I want to talk to the bitch!

Later in the episode, Chris and Jacqueline discuss Ashley's assault on Danielle at the country club.

Chris: I'm telling you right now, ignore her (Danielle)! If you don't ignore her, she's going to continue to push your buttons.

Jacqueline: Like posting on your Facebook that "it was an unbeweavable night last night."

Ashley: I told you that and you were laughing! You were like, "Ha ha ha!"

J: I know! It was funny!

A: Don't act like you're mad at me! You were so, it was like your idea too! Yeah, you were laughing!

J: It was not my idea (very angry)! Are you kidding! That was not my idea! I don't want it on there!

A: God, whatever!

J: Ashley! How many times have I had a talk with you about not putting anything on Facebook, and you keep doing it?!

A: You're like two-faced.

J: Yeah, it's really funny Ashley. I hope you do get to suffer the consequences. I hope you do suffer the consequences from your actions. I hope you learn. I do. Cuz that's the only way you'll learn.

A: Then you and Danielle can go out and have lunch together.

C: You know what Ashley, I want you to be a little more respectful before I throw your ass out of here! OK? I had enough of you and your mouth!

J: So have I.

C: OK? So either you watch you mouth or get the hell out of here! OK? You think you know everything! You think you have all the answers! (Very angry) Shut your mouth!! How 'bout that?! OK? Because you DESERVE to be taught a lesson!
Season 2 Episode 11: "Staub Wounds"
Danielle is talking to Danny in the diner about Ashley and Jacqueline.
"I can't keep saying this is Ashley's fault because it starts at home. Not when a year ago that little girl was telling me how much she loved me. And this is a girl that told me about what she experienced, that she would do anything to fit in with that family. That Manzo family. That Laurita family. Yeah, it's hard enough from what I know from Jacqueline, when we were really close friends, that she tried really hard herself to fit in, for a long time. And she would tell me it was very painful.

"Then when you bring a child not from marriage into a family like THAT! (Danny asks if Ashley is Chris' child) Chris is not her father, no. I feel for her. How horrible for a child to go through that. I feel for her, I really do.

"That comes from poisoning. They did their mother-daughter act. Likes attract likes… I'm gonna make my point very clear. Just stay away from me. Guess what, I don't like you very much either anymore. I don't wish you harm like you do me but, if you have an issue with me, please try to teach your children to deal with their issues with other people a little more respectfully. And karma is such a big bitch. It's a bigger bitch than I'll ever be."
Danielle TH:
"Children do learn what they live, Jacqueline. I don't think it's Ashley's fault that she's like she is. But she's 19 years old, she attacked me, and laughed about it. That's not cool, not right and it's illegal.

"What troubles me the most about Ashley is there was a point in time when she called me, not her family, to help her through every single solitary part of her day, right down to, 'Can I use your tanning room?' And now she has pulled hair from my head, held it up in the air, and bragged about it. It troubles me because I worry for my own safety.

"I'm disgusted and mortified that Jacqueline doesn't have a better handle on her daughter. Jacqueline, it's YOUR fault that things are happening. It's YOUR karma that you're messing with, and you're not going to mess with me no more. My boundaries have been crossed. You disrespected me and that will not happen again, EVER!"